The Mini Bagger

The Mini Bagger is a unique waste disposal solution offered by Mini Dumpsters of Fresno, designed to provide a convenient and cost-effective way for homeowners and contractors to get rid of their waste. It consists of a heavy-duty, tear-resistant bag made of durable woven polypropylene that can hold up to 1500 pounds of debris, including household junk, construction materials, and yard waste.

Using the Mini Bagger is simple and hassle-free. First, you purchase the bag from an our online store. Then, you fill the bag with your waste and debris, making sure that it does not exceed the weight limit. Once the bag is full, you schedule a pickup online or by phone, and Mini Dumpsters of Fresno will send a truck to collect the bag within three business days.

The Mini Bagger is an environmentally-friendly waste disposal option, as it helps to reduce the amount of waste sent to landfills by diverting it to recycling and waste-to-energy facilities. It is also a cost-effective alternative to traditional dumpster rentals, as you only pay for the bag and pickup service, without any additional rental fees or time limits.

Overall, the Mini Bagger is an innovative waste management solution that offers convenience, affordability, and sustainability to homeowners and contractors looking to dispose of their waste in a hassle-free enviroment.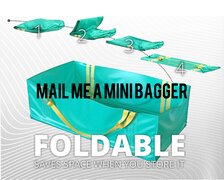 The Mini Bagger (item)
Dimensions:
Days: Included
Included Tonnage: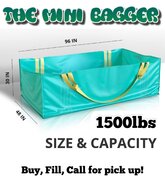 The Mini Bagger Removal
Dimensions:
Days: Included
Included Tonnage:
Mini Bagger, Dumpster in a Sack! (Demo Video)
Please make sure your bag is place with in 10 feet of the street. Do not block a sidewalk and keep away from overhead power lines. Please review our video demomstration to understand how our
Mini Bagger
bag will be removed. Thank you for using our
Mini Bagger
Dumpster in a sack service.
How To Setup Your Mini Bagger
Life dosn't have to be so diffucult. The Mini Bagger is a simple solution to move the trash and clutter from your home. This video shows you how you can easily setup your Mini Bagger in minutes. Always remember to setup your Mini Bagger no more then 10 feet away from the curb. And please watch out for power lines above.