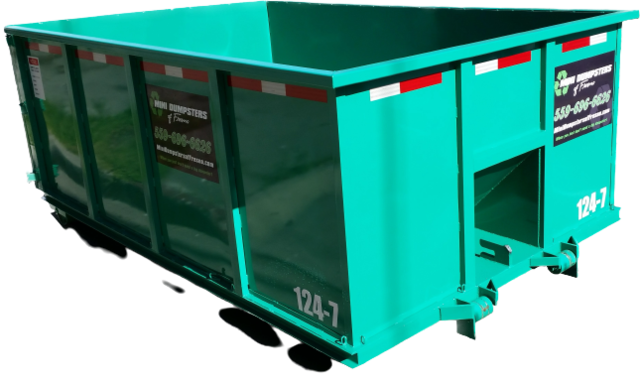 12'L x 7'5"W x 4'H
Up to 4 days
$20 Per Additional Day
Description
Dimensions:
7.5' Wide, 12' Long, 4' tall
Rental Time

1 - 4 Days, when booking you can always add additional days ay $20 per day.

Delivery Time

Dumpsters can be delivered anytime between 8am and 5pm. Unless you request a time senitive delivery for a addtional $50.00

Capacity

This dumpster can hold up to 4 truck loads

Key Features

Higher walls make it great for hold larger items while hauling junk

Is the 14-yard dumpster right for you?

The 14-yard dumpster is great for medium size projects that require more space for hauling junk and debris. This dumpster can assist you with jobs like:
Junk removal

Fence removal

Home renovation projects

Estate cleanouts

Carpet removal
If you are getting ready to take on a medium sized project -like a whole house carpet removal, or a remodel- consider renting our 14 yard dumpster help you out with the cleanup. For smaller jobs or projects, try out our 7-yard dumpster.

For any extra large upcoming projects you may have, consider our large 16-yard dumpster. It is great for big remodeling jobs allowing you to haul more junk away with its extra space inside.

Here to Help

If you do have a larger project and would like to have some helping hands, we are here to assist! Just check out our services page and choose from the services listed there. We offer single item pickup, tractor services and more!